Chilly Hire - Mobile Refrigeration Trailers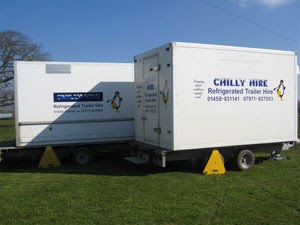 Easy to use, simply plug into a 13 Amp mains supply or generator and the required temperature is reached within 45 minutes.
Our trailers are complete with walk-in doors and racking that, if required, simply folds down to create shelves for your goods. The units are totally independent and lockable. Visible analogue and digital thermostats are situated outside the unit giving you the ability to check the temperature without entering.
These units are ideal for weddings, barn dances, harvest homes or emergency break down cover for butchers shops or just extra cold storage for farm shops at busy times of the year.
It's best to contact us by phone - we are always available - daytime, evenings and weekends.
Michael & Jenny Churches - Chilly Hire

Tel: 01458 831141 ~ Mobile: 07971 827503 ~ Fax: 01458 831141
Email: glastonburyweddingandevents@btconnect.com

Godney Farm, Godney, Wells, Somerset, BA5 1RX
Fridge Trailer Tariff
PER WEEKEND (Friday PM to Monday AM) - £180.00
PER LONG WEEKEND (Thursday PM to Monday PM) - £220.00
PER FULL WEEK - £350.00
Generator Tariff
PER WEEKEND - £60.00
PER LONG WEEKEND - £85.00
PER FULL WEEK - £120.00
Longer term hire is available - please contact us for pricing.
We will confirm the exact price on application to include delivery, commissioning, and collection - no hidden extras.